Fill This Form For Complete Details
Eighteen is Pakistan's premier lifestyle destination brought to life through a collaboration between Egypt's renowned Ora Developers, esteemed partners Saif Group, and Kohistan Builders. Building upon the tremendous achievements of their previous venture with Mobilink Telecommunications, these visionary groups have united once more to establish an unparalleled benchmark for upscale living experiences in Pakistan.
Eighteen is a beautiful place in Pakistan that has been carefully designed for people who want the best. It is spread over a huge area of 2.7 million square yards and is surrounded by lovely hills in Islamabad. The location is very convenient, as it is only 20 minutes away from downtown Islamabad and has easy access to highways and the new international airport. Eighteen is like a symbol of luxury and high-quality living from around the world. It's a place where you can relax and also feel a connection with others.
Eighteen Islamabad is strategically located in the capital city of Pakistan, Islamabad. It occupies a prime spot within the city, making it easily accessible and well-connected to major areas and landmarks. The development is situated in close proximity to downtown Islamabad, ensuring convenient access to the city's bustling center.
Additionally, Eighteen Islamabad benefits from its scenic surroundings nestled amidst the hills of Islamabad. The natural beauty of the area adds to the charm and tranquility of the location, providing residents with a serene and picturesque environment to enjoy.
NOC

Status
The developers of Eighteen have successfully obtained the necessary NOC (No Objection Certificate) for the project. The Chairman of CDA, Kamran Lashari, confirmed that the designated land falls outside the jurisdiction of CDA. As a result, the RDA (Rawalpindi Development Authority) has issued the legal NOC for Eighteen. For more detailed information, you can visit the following link:
http://www.rda.gop.pk/housing-societies-2/
Developer's

History
Eighteen is an exciting real estate project created through a collaboration between Ora Developers, Saif Group of Companies, and Kohistan Builders. The developer has formed a consortium known as Elite Reverie Housing, also referred to as Elite Estates.
Situated in the Eighteenth Sector of Islamabad near the Motorway, this project features a thoughtfully designed master plan and architecture conceptualized by WATG. The initial outline plan for Eighteen was created by Calisson RTKL. For expert guidance on infrastructure development, ECG has been subcontracted.
Wimberley Interiors, known for their work both locally and internationally, will be responsible for the interior design of all the villas at Eighteen. The villa designs, on the other hand, have been subcontracted to Meinhardt.
To ensure the highest quality golfing experience, IDG International Golf Design has been subcontracted to develop an 18-hole PGA standard golf course within the project.
These collaborations and subcontracting arrangements reflect the commitment to excellence and expertise brought together to create a remarkable living experience at Eighteen.
Development Update
The development work at the site commenced with great momentum, progressing swiftly. This project is set to meet the increasing demand for luxurious-style houses in Pakistan, ensuring that the aspirations of discerning individuals are fulfilled.
The Master Plan of Eighteen presents a diverse range of luxury villas with varying dimensions. As per the Layout Plan, a total of 1068 luxury villas and 971 apartments will be available. The project includes 28 plots designated for apartment buildings, but these plots are not available for sale.
The villas, which attract the attention of both investors and prospective residents, are organized into 10 distinct clusters. For further information and a detailed overview of the Master Plan, please refer to the following details: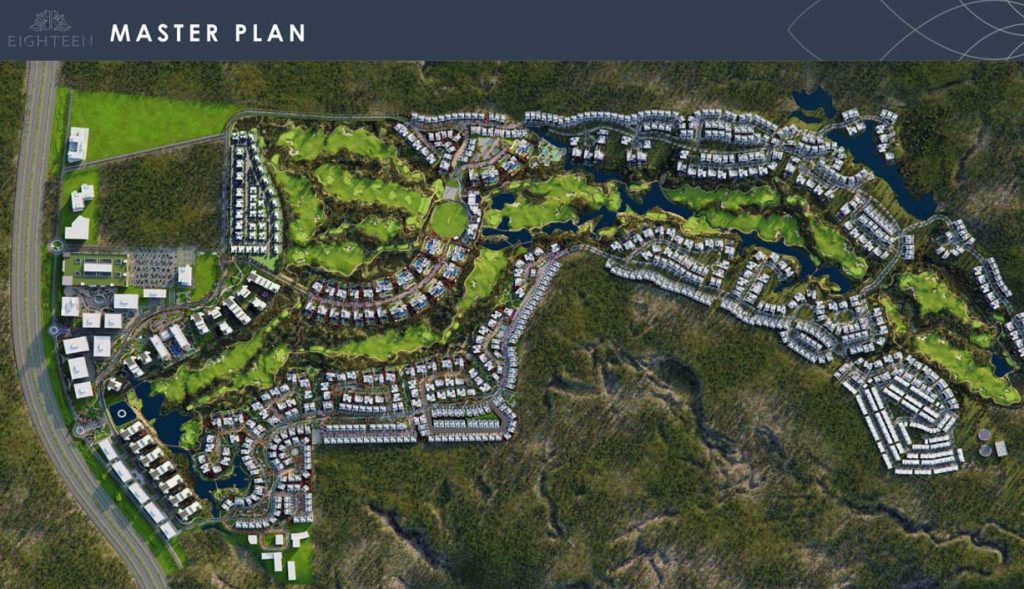 Booking
Procedure

in Eighteen
To reserve your preferred villa or apartment at Eighteen, please follow the simple booking procedure outlined below:
Submission of Documents:

Provide a copy of your ID card or passport as the applicant.
Submit the ID card or passport of the nominee.
Include two recent photographs of both the nominee and the applicant.

Token Amount:

Due to the limited availability of villas and apartments, you can secure your desired unit by sending a token amount.
This token amount will serve as a confirmation and reserve your preferred villa or apartment for a maximum of 24 hours.
To initiate the booking process or for any further inquiries, feel free to contact us. We are here to assist you throughout the process and provide you with the necessary information you need.
Fill This Form For Complete Details